Our calculations indicate that at least £235 will be needed to cover the basic costs for each dog coming through this program. This is an averaged figure.
This does not take into account any additional veterinary attention needed that may be apparent when a dog comes into our care. Nor does this take into account any capital expenditure needed for tools and equipment, protective clothing, transport and vehicle disinfection.
This figure covers and includes the following over a period of 7 weeks from the time that a veterinary practitioner gives initial inoculations to the dog - for each dog.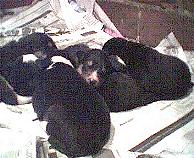 Inoculations (full program) - Intrac Kennel Cough Vaccine (these both normally given on farm) - Microchipping - Worming ( 2 courses Drontal Plus) - Neutering or Spaying - Isolation kennelling for 21 days in licensed facility (includes food and supervision) - Additional food and treats - Recreational Aids - Disinfection and Decontamination - Collar, lead and ID disc - Bed, Bedding, towels, food & water bowls and grooming equipment.
Labour and TLC comes free with BCR.
Most of these dogs are Border Collies, but also include some New Zealand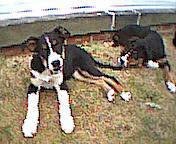 Huntaway's, Border Collie / Huntaway cross breeds and Border Collie / Kelpie Cross breeds. The youngest dogs placed on the register has been a litter of 2 day old pups - the oldest is 10 years and still working. One dog is a KC registered show breed dog that is on a farm, but is not working stock. One Kelpie bitch came in pregnant and has had a litter of 7 pups (Kelpie X B.C.). Mother and Pups did well and the pups have shown eye at a very early age and are now being homed onto working farms. There is another pregnant bitch now in care with the litter expected any day now.
These figures are based on average costs of these processes to our organisation, taking in to consideration the discounts we normally get on commercial prices and direct quotations for the kennelling costs, averaged over the units we are using in different parts of the country. In most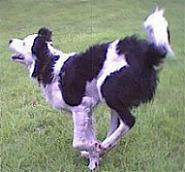 cases the initial Inoculation and Kennel Cough Vaccine will be given on the Farm by an appointed vet and will incur additional call out charges, however, this is offset against the cost of providing accommodation in a halfway house facility before isolation and will ensure that the dogs only have to spend 3 weeks maximum in a kennel environment rather than five weeks.
As part of the arrangement we have made with MAFF / DEFRA to enable this unique program to operate, our operatives need to attend each farm and disinfect dogs before they are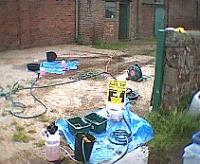 removed. There are additional costs relating to transport to collect the dogs and move them from the farms to the isolation facilities, specialised equipment needed to prepare and decontaminate the dogs - disinfection of vehicles and equipment - disposable protective clothing used by operatives - general administration - cost of home visits and checks. These costs have added approximately £4500 to the overall cost of the operation based on the existing number of registered dogs. Much of the equipment will be re-usable and it will be possible to decontaminate some items for future use by BCR, however some of the equipment (and of course the Fuel costs) will be one off's and will need to be disposed of after a single use, so this figure will increase slightly with each new dog added to the program.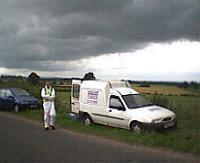 A good example of this is the disposable overalls that give category three protection and cost in at around £6 each. These are required to be worn at culled premises and are disposed of after one use. Between two and four sets will be required for each farm collection, depending on the number of operatives needed in relation to the number of dogs to be processed. Additionally, decontamination operatives will also need to use disposable masks, gloves and goggles. Each farm call could therefore cost up to £30 in disposable protective wear.
We are lucky in respect that we have received a donation of 50 sets of category 3 Biohazard coveralls for the use of decontamination operatives and another 25 sets of category 1 suits for the use of operatives outside the premises who will handle, rinse and dry the disinfected dogs. This has save us over £350 but a few more will need to be purchased to cover the program to date.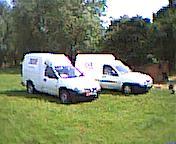 The program is also very labour intensive, however this does not add to costs as all the work is carried out by BCR volunteer members and helpers. You may be interested to know that BCR has covered over 20,000 miles - so far - just collecting dogs from farms. This has taken us all over the UK from Dumfriesshire to Devon, with the worst hit areas like Cumbria and South Wales and borders giving up most dogs.
Our current estimates indicate that we will need to raise around £49,620 to cover the dogs already registered on this program. The current response to the appeal has raised just over £22,000 in cash and kind so far. In addition to this there are a number of planned events and some pledges from other organisations.
These dogs are not being 'dumped' as some individuals are suggesting. These dogs are being reluctantly passed into our care by owners who are concerned about the welfare of the animals and wish them to have a better future and a chance to get back to work quickly.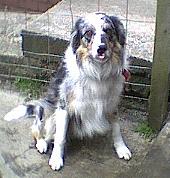 Should the fund be over subscribed and any funds or materials left after the last dog has been taken in and the program wound up, any remaining assets will stay in our Welfare Fund for use on the many other dogs we will be taking in during the normal course of our work in the future.
Please help if you can - One off donations by Cheque or Postal Order made out to - Border Collie Rescue Welfare Fund - will boost our cash fund underwriting the program.
Regular standing order donations can be made to our Central or Welfare funds. Click here for details.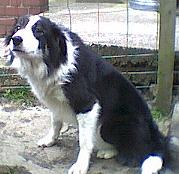 If you think you can organise a fund raising event, please call us to discuss it and register the event.
If you think you can assist by a contribution of goods, please call us to discuss the needs of the program.
After Foot and Mouth is eradicated life will go on for us all. Please support this program to ensure that life will go on for these dogs as well.