You are here >>> Funding & Helping >>> Sponsorship Ideas >>> London Marathon 2008
Border Collie Rescue - On Line -

Graham Roberts Marathon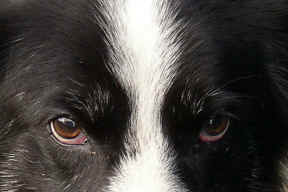 Border Collie Rescue - Keeping an "Eye" on the breed
Graham Roberts ran in the

London Marathon

- 13th April

2008
Raising funds to keep our centre running
PC Graham Roberts of the Metropolitan Police has run the London Marathon 2008 to raise funds for the Border Collie Rescue Assessment and Re-habilitation Centre near York. He raised £1,454.00.
We thank Graham, who has done a wonderful thing for Border Collie Rescue, and we would also like to thank all the people who sponsored him, particularly his colleagues in the Met who supported him, John and Helen Quirk and those who sponsored him from the Shetland Islands, such a long way from London and last, but not least, all those who sponsored by post and email.
Our thanks to you all.
Grahams ran in the London Marathon with £1454 of pledges to support Border Collie Rescue dependent on his success. Many thanks to all who supported Graham and BCR.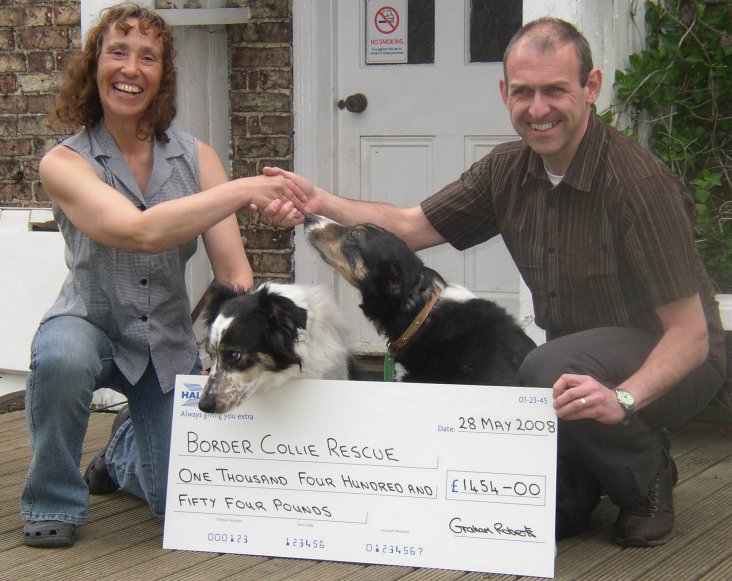 Above - Graham and Nicki Oliver from BCR with Dot and Spot.
Below - Tired but proud to have finished, Graham displays his medal.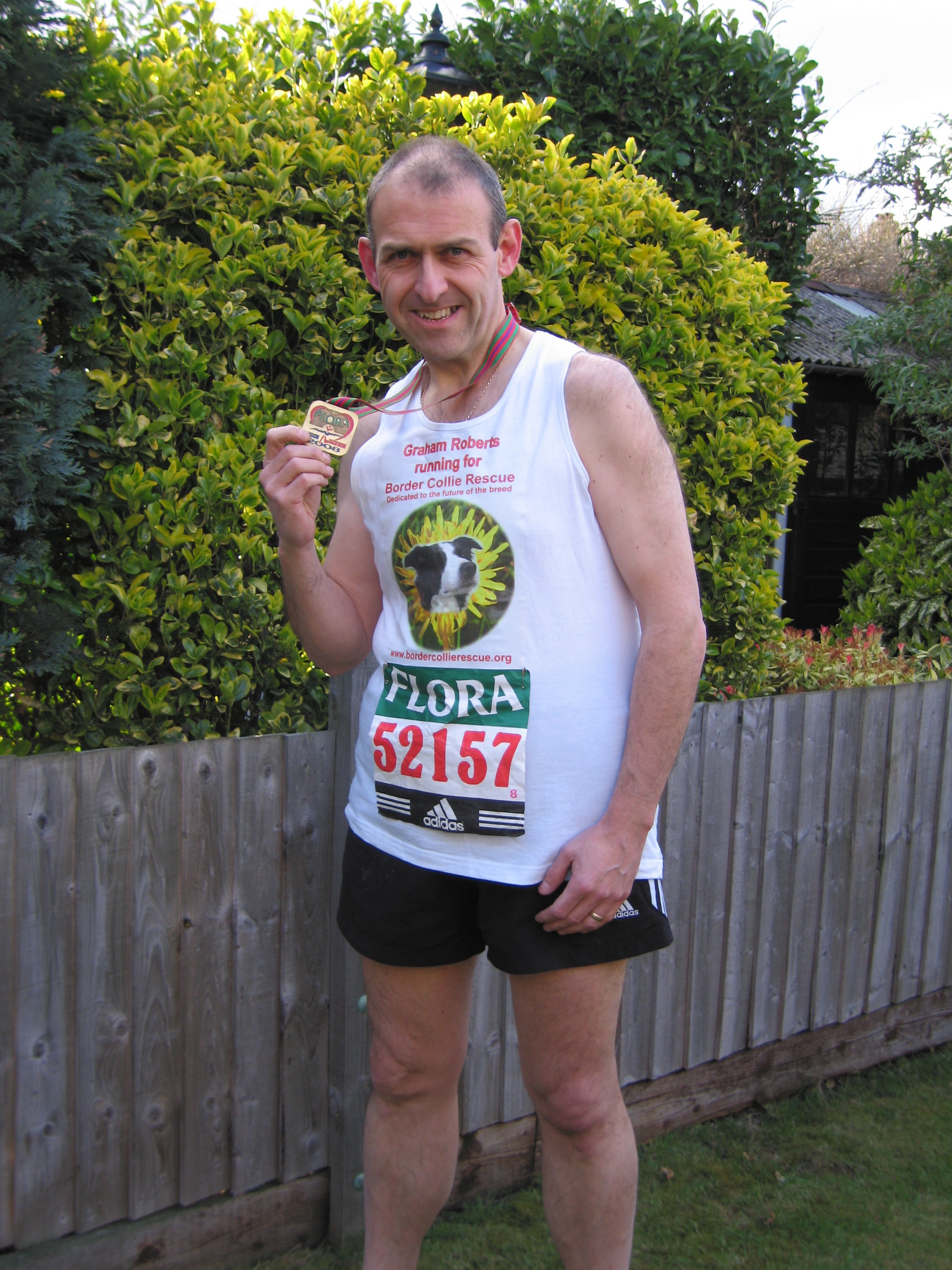 ---
Introducing Graham
I am 47 years old and I live with my wife Gina in Dartford Kent. I am a Police Constable with the Metropolitan Police and currently work in Plumstead, South East London. My hobbies apart from running are walking in the Yorkshire Dales, cooking and drinking Best Yorkshire bitter. Our working hours prevent us from having another dog at present but with retirement from the police looming in a few years, Gina and I are looking forward to having a Border Collie (or two) in the future.
I have not run a full marathon before but have completed a half marathon in less than two hours. I am training and see it as a personal challenge to complete the London Marathon and hopefully raise some well needed funds for

Border Collie Rescue

.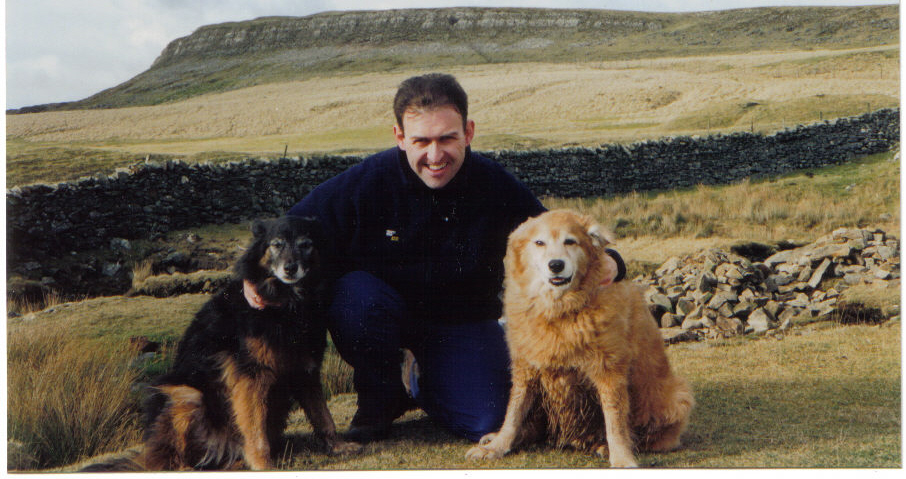 Graham
with

his

two dogs (Sasha a black/tan Border Collie cross and Sammy a Golden Retriever cross). Both were rescue dogs and died in 2005 of old age. Sasha was 18 years and 3 months and Sammy 17 years and 6 months; both are missed a lot.
Update - 7/4/2008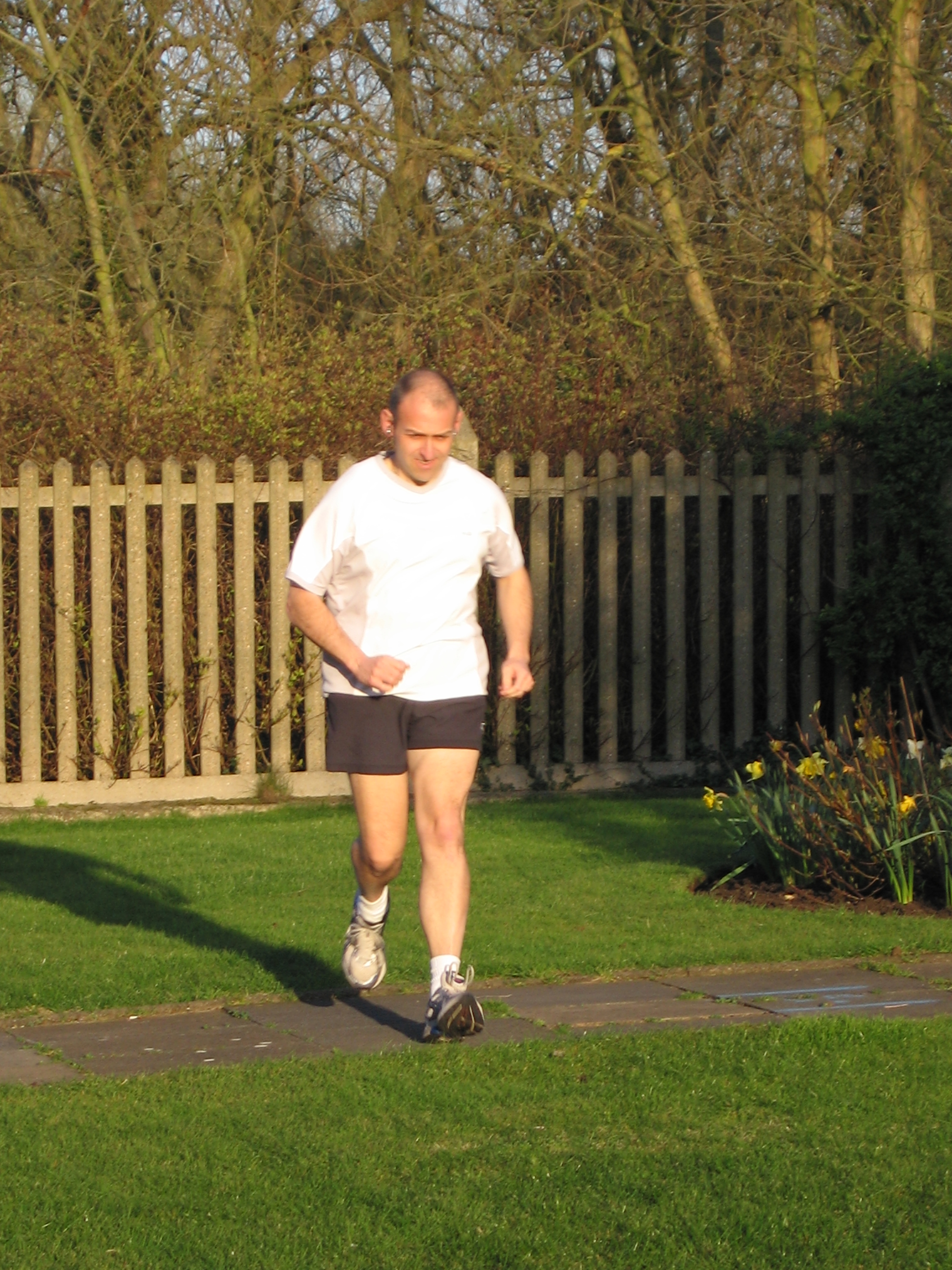 Firstly a big thank you to everyone who has pledged money in support of my efforts, if you haven't sponsored me yet there is still time - every little helps

, I'm aiming to raise a total of £1000 if at all possible

. My training has being going well, last week I completed a 20.2 mile run in the wind and sleet. I was pleased with my overall fitness and felt like I had the energy to carry on. The only setback was that my legs were not feeling the same, they were like lead weights. Now I know what people mean when they say you "hit the wall". A little tip for anyone who suffers from joggers nipple. After a lot of experimenting the ideal solution are "Opsite" dressings that are available from all good chemists. They save miles of unnecessary pain.
I have had a little setback in the last week in that I have sustained some kind of foot injury. I have no idea how I did it and suspect I have bruised the bottom of my foot. My friend Andy from www.kemsingacupunture.co.uk stuck a few needles in some strategic places that certainly helped a great deal. I rested for a few days and went out again for the first time last night after work and completed eight miles. The foot held up although there was still some discomfort. I do not intend running any long distances again now before the big day, just a few miles to keep the muscles stretched. Gina and I have a few days away planned in the Yorkshire Dales over this weekend where I plan to get some walking done and top up with carbohydrates in the local pub. The week before the race my diet will include a lot of rice, pasta and potatoes as recommended by most of the training information I have read.
Next week I have to visit the Excel Centre in London's Docklands to collect my number (52157 if you want to look out for me on TV) and a microchip that fits to my shoelace that registers on mats as I run over them. This stops cheating by taking shortcuts around the course and gives an accurate course time
As 13th April draws nearer I am getting excited but also

apprehensive

. I have never run 26 miles before and having now run 20 you realise what a long way it is. Some friends who have run the marathon before tell me that the crowds offer a lot of encouragement around the course.

My support team on the day will be Gina and my friend and work colleague Lindsey. They are arranging to meet up with me at strategic points around the route to provide extra energy drinks and moral support and will hopefully be there to see me over the finish line !
Anyway, dig deep, please sponsor me and help those lovely sheepdogs at BCR.
TOP
You are here >>>
Funding & Helping
>>> Sponsorship Ideas >>>
London Marathon 2008
Copyright - Border Collie Rescue - 3037504
Border Collie Rescue is a UK based charity, working Internationally to Rescue and Re-home Border Collies and Working Sheepdogs and promote a better understanding of the breed and its Welfare.
border collie rescue, border collie, border, collie, rescue, dog, puppy, canine, sheepdog, sheep, animal, animal testing, animal welfare, animal abuse, animal cruelty, welfare, uk, society, charity, trust